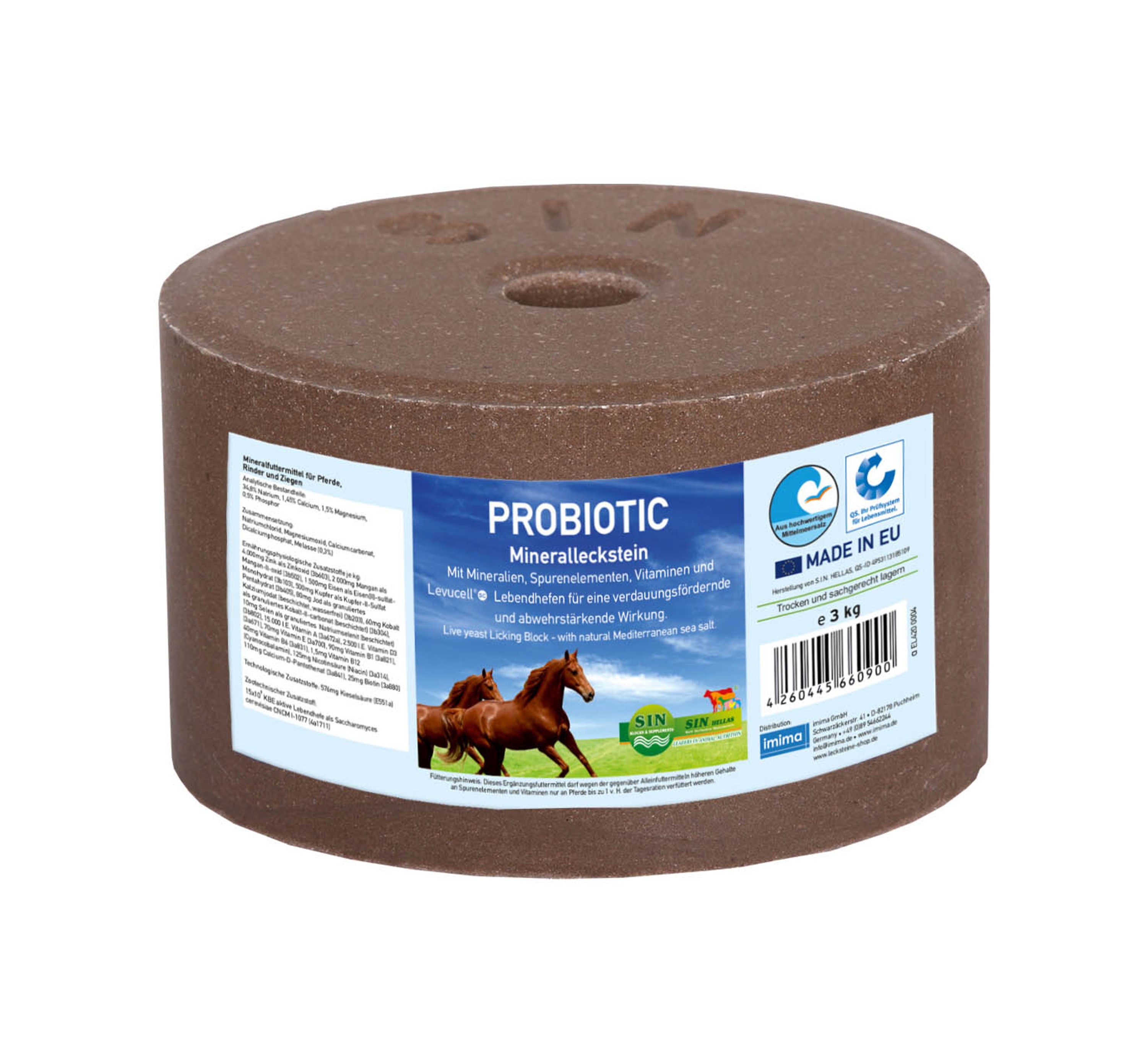 PROBIOTIC lick block, 3kg
---
EUR 17.00
*
Unit price
EUR 5.67 / kilogram
Ready for shipping, delivery in 48h
---
Lick block with live yeast from Levucell®
PROBIOTIC mineral lick improves the digestion and the immune system thanks to specific live yeast.
Effects and benefits:
Live yeast increases the fibre digestion, which leads to higher feed efficiency and higher milk production
Lowers the risk of laminitis for horses
Reduces the symptoms of metabolic acidosis, thus the level of milk production can be improved
Strengthens the immune system
Increases fertility
Higher quality of the colostrum
Benefits especially for horses:
Live yeast increases the fiber digestion:
With the live yeasts in PROBIOTIC, a higher digestibility of the fibre structure of hay or straw is achieved. The digestion of hay requires a very high activity level of the digesting bacteria located in the colon. The cellulose-splitting microorganisms are stabilized by the added live yeast and thus an improved digestive activity can be reached. Especially horses with a tendency to fecal water, mostly when switching from pasture to hay and straw, can benefit from feed supplement with live yeast.
Live yeast has an immunogenic and anti-microbial effect on the horse:
Living yeast cells in PROBIOTIC support a non-specific stimulation of the immune system. The special glycoprotein structure of the cell surface causes an immune response, which strengthen the immune system of the horse. The barrier function of the intestinal mucosa is supported by feeding live yeast. These yeasts can also bind bacterial toxins and prevent transmission of infectious agents to the intestinal of the horse and foster excretion.
Senior Horses: 
PROBIOTIC with its live yeasts promotes the digestion, which becomes more sluggish over time, and the immune system in senior or weakened horses.  The often increased need for minerals and vitamins in senior horses (eg zinc, vitamin E and A) is supported. 
Content: 1x 3kg
Mineral feed for horses, cattle and goats
Analytical ingredients: 34,8 % sodium (Na), 1,45% calcium (Ca), 1,5% magnesium (Mg), 0,5% phosphorus (P)
Composition: sodium chloride, magnesium oxide, calcium carbonate, dicalcium phosphate, molasses (0,3%)                                                                                                                                                                                                                                    
Nutritional Additives / kg: 1.500mg iron (sulphate monohydrate (II)) (3b103), 2.000mg manganese-II-oxide (3b502), 500mg copper (sulfate-II-pentahydrate) (3b405), 4.000mg zinc (oxide) (3b603), 80mg iodine (coated granulated calcium iodate anhydrous) (3b203), 60mg cobalt (coated granulated cobalt (II) carbonate) (3b304), 10mg selenium (coated granulated sodium selenite) (3b802) 10 mg, 15.000 I.U. vitamin A (3a672a), 2.500 I.U. vitamin D3 (3a671), 70mg vitamin E (3a700), 90mg vitamin B1 (3a821), 40mg vitamin B6 (3a831), 1,5mg vitamin B12 (cyanocobalamin), 125mg niacin (nicotinic acid) (3a314), 110mg calcium-D-pantothenate (3a841), 25mg biotin (3a880)
Digestibility enhancers: 15x109 CFU Live yeast (Saccharomyces cerevisiae CNCM I - 1077) (4a1711)                                                                          
Technological additives: 576mg Silicic acid (E551a)
| | |
| --- | --- |
| Item ID | 146 |
| Condition | New |
| Age rating | No age restriction |
| Manufacturer | Sin Hellas |
| Manufacturing country | Greece |
| Content | 3 kilogram |
| Weight | 3000 g |
| Net weight | 3000 g |
Item reviews ()
---
---
Loading reviews...
Do you really want to delete?